I dunno, the mii creator is down apparantly
I do actually have a home menu and mii channel wad on my Dolphin.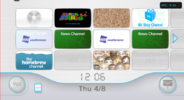 (Its running this poorly cuz I'm not on my home PC at the moment.)
Post automatically merged:
Please remember to use the " Edit" button to incorporate changes into your post when available.
MyAvatarEditor works with Adobe AIR just fine.
I can provide an archive with the Adobe AIR installer included, if needed.

But really, I hope someone would port the program to HTML5 soon.
TYSM that would be a huge help.
Last edited: